Superior Rooms up to 3 Guests
Superior Hotel Rooms in Oia
Spectacular Sanctuary: Superior Room up to 3 Guests
Dive deep into the essence of Santorini at our esteemed hotel in Oia. Designed to house up to three guests, our Superior Rooms are masterpieces of Cycladic artistry. The inviting built-in double bed and sofa serve as perfect haven, welcoming couples, families, and friends into an embrace of warmth.
From its understated elegance to its artful decor, every corner of this room echoes Oia's rich legacy. Here, the tales of the Cyclades aren't just told; they're lived, experienced, and cherished.
Beyond the walls lies another realm. Your private terrace, flourishing with plants nurtured by the dedicated Strogili team, awaits. Equipped with a table and chairs, it offers an intimate space under the vast Aegean sky. As you sip your morning coffee, delve into a captivating book, or merely pause to take it all in, the majestic vistas of the Aegean, Caldera, and Volcano serve as your backdrop.
As your voyage at our hotel in Oia – the Strogili Traditional Houses – reaches its crescendo, one sentiment resounds: here, moments aren't merely passed, they're etched in the annals of memory.
---

Services & Amenities
Complimentary bottle of wine and water upon arrival
Free Wi-Fi
Linen
Toiletries
Slippers
Pool Towels
Hairdryer
Telephone
Iron
Wake-up call service
---

Facilities
A/C (cooling / heating)
Private Bathroom with Shower
Desk
Toaster
Mini fridge
Electric kettle
Satellite TV
Safe deposit box
Wardrobe or closet
Terrace with Sea & Caldera views
Outdoor furniture
Notes:
Enjoy continental breakfast in the comfort of your room or terrace between 08:30 a.m. and 10:30 a.m.
Please note that breakfast might not be part of your room package. If not, it can be arranged at an additional cost upon request.
Hotel policy permits children aged 7 years and older, as well as infants from 0 to 2 years.
Check In: 3:00 p.m. - 10:00 p.m.
Check Out: 00:00 a.m. - 11:00 a.m.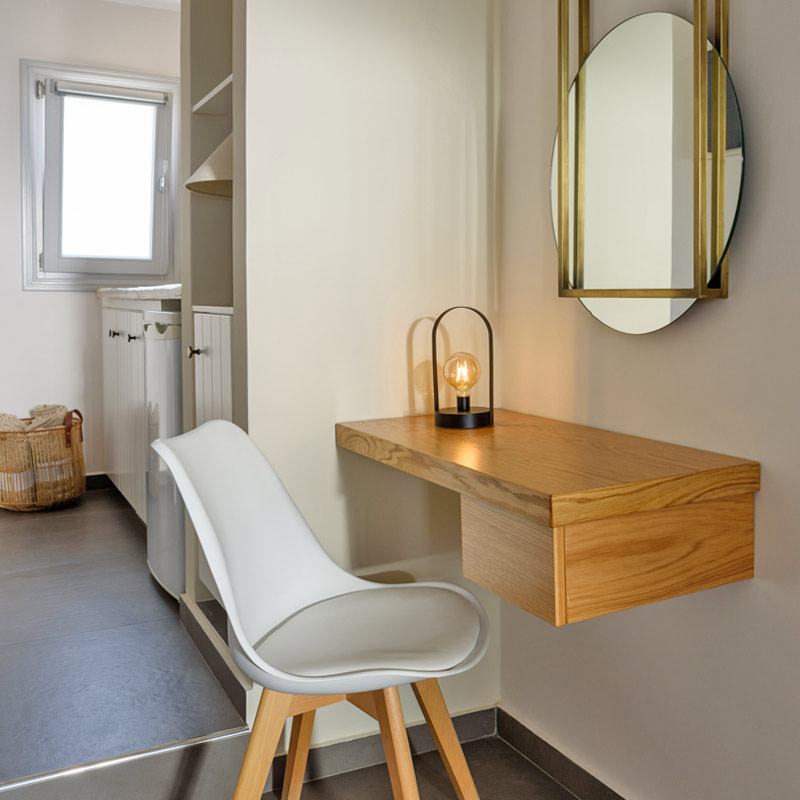 2-3 Persons
1 Double Bed
1 Sofa Bed
Sea & Caldera Views
28 sq. m.
2-3 Persons
1 Double Bed
1 Sofa Bed
Sea & Caldera Views
28 sq. m.